What exactly is a "gute Küste", which shelters us from natural hazards and allows us to live responsible and in tune with nature, embedded within an organic and sustainable cultural landscape?
This hypothesis is investigated by a research collaboration between three universities of Lower Saxony at the North Sea coast between the Ems and Weser estuaries. Ecosystem strengthening coastal protection is the focus of the research project. Within the area of conflicting interests between coastal squeeze and naturally formed coasts, coastal protection structures are constructed. At the interface between land and ocean sea dikes protect the hinterlands with their values against impeding storm surges.
Incremental climatic change, partially enhanced by human activities, results in already measurable consequences such as sea level rise, milder winters and prolonged summer droughts. Consequently, coastal protection concepts require a makeover. Current concepts are solely targeted at flood protection and do not consider any additional benefits for the system. For example, the value of a functional habitat for flora and fauna or touristic development are completely neglected.
How maritime landscapes, such as salt marshes or coastal dunes, can be integrated into current protection approaches is the driving question in the project "Gute Küste Niedersachsen". What functional benefits, such as added coastal protection through wave dampening or independent system adaptation, they offer is of major importance against the background of ubiquitous climate change. To answer these questions, large scale field laboratories are developed at the North Sea coast by the research partners. Within the field labs, yearlong observations of the foreshore with its halophytes will be acquired. In a subsequent step, these data will be used to build surrogate plant models and mimic nature in hydraulic laboratories to investigate system responses towards extremes in more detail. Finally, technical guidance as well as policy recommendations will be derived for a more integrated coastal protection and management concept.
Climate adaptation research made in Lower Saxony
Short story Gute Küste Niedersachsen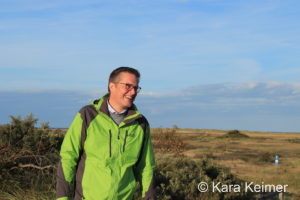 Speaker of the research cluster  "Gute Küste Niedersachsen"
Principal Investigator of the Gottfried Wilhelm Leibniz Universität Hannover
Managing Director and Chair of the Ludwig-Franzius Institute for Hydraulic, Estuarine and Coastal Engineering
Principal Investigator of the Technical University Carolo Wilhelmina of Braunschweig
Managing Director and Chair of the Devision for Hydromechanics, Coastal and Offshore Engineering of the Leichtweiß-Institut for Hydraulic Engineering and Water Resources
Managing Director of the Coastal Research Center 
Promoted head of Leibniz Institute for Baltic Sea Research – News feed IOW
Principal Investigator of the Carl von Ossietzky Universität Oldenburg
Managing Director and Chair of the Center for Marine Sensors (ZfMarS) in Wilhelmshaven and the Spiekeroog Coastal Observatory (SCO)